Thank you for your order! We are currently processing your order. Shortly, you will receive another email from us containing your specific licensing information.
In order to license your purchased product, you will need to download and install our CCHE-GUI software package. Once it has been installed, run the CCHE-GUI software and navigate to the "About" menu. The "About" window will display the Machine ID of the computer. Here, you will need to copy the Standard Machine ID number (46D82CA0 in the example screenshot below) and past this number in and email to be sent to orders@comphydrotech.com. Once we've received your machine ID and your order has been processed, you will receive an activation code for the product.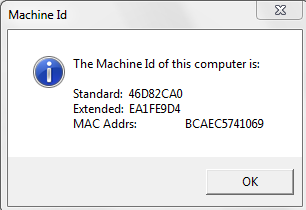 Note: If you've purchased any of our educational (EDU) products, you must provide proof of educational affiliation! Email an image or PDF file of your academic faculty/staff/student photo ID to orders@comphydrotech.com using an email account with a .edu domain suffix in order to complete your purchase.

Thanks,
Computational Hydro-engineering Technology